March 19, 2021
ESG Investing with Your IRA: Align Your Retirement with Your Values
By: Pacific Premier Trust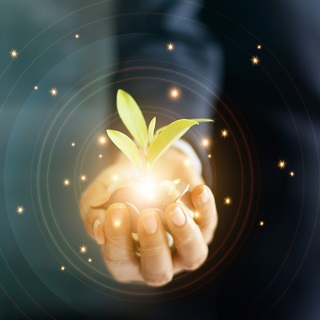 In the past year, the coronavirus pandemic turned life as we knew it on its head. Many of us found ourselves suddenly working remotely, homeschooling children, and keeping a close eye on our supply of hand sanitizer. Stock markets gyrated wildly, the US entered a recession, and Congress enacted two of the largest relief packages in modern American history.
Amid this upheaval, Morgan Stanley studied how environmental, social, and governance (ESG) funds performed. ESG funds, which focus on a company's environmental, social, and governance practices, have soared in popularity as investors work to align their portfolios with their values. So too have impact investments, which help generate financial returns while also creating a positive social or environmental impact. While questions persist as to whether ESG or impact investing means having to accept lower returns, that is not turning out to be the case.
According to research from the Morgan Stanley Institute for Sustainable Investing, ESG sustainable funds across stocks and bonds weathered 2020 better than non-ESG portfolios. An analysis of more than 3,000 U.S. mutual funds and exchange-traded funds (ETFs) showed sustainable equity funds outperformed their traditional peer funds by a median total return of 4.3% in 2020. In the same period, sustainable taxable bond funds beat their non-ESG counterparts by a median total return of 0.9%.
2020 Median Total Returns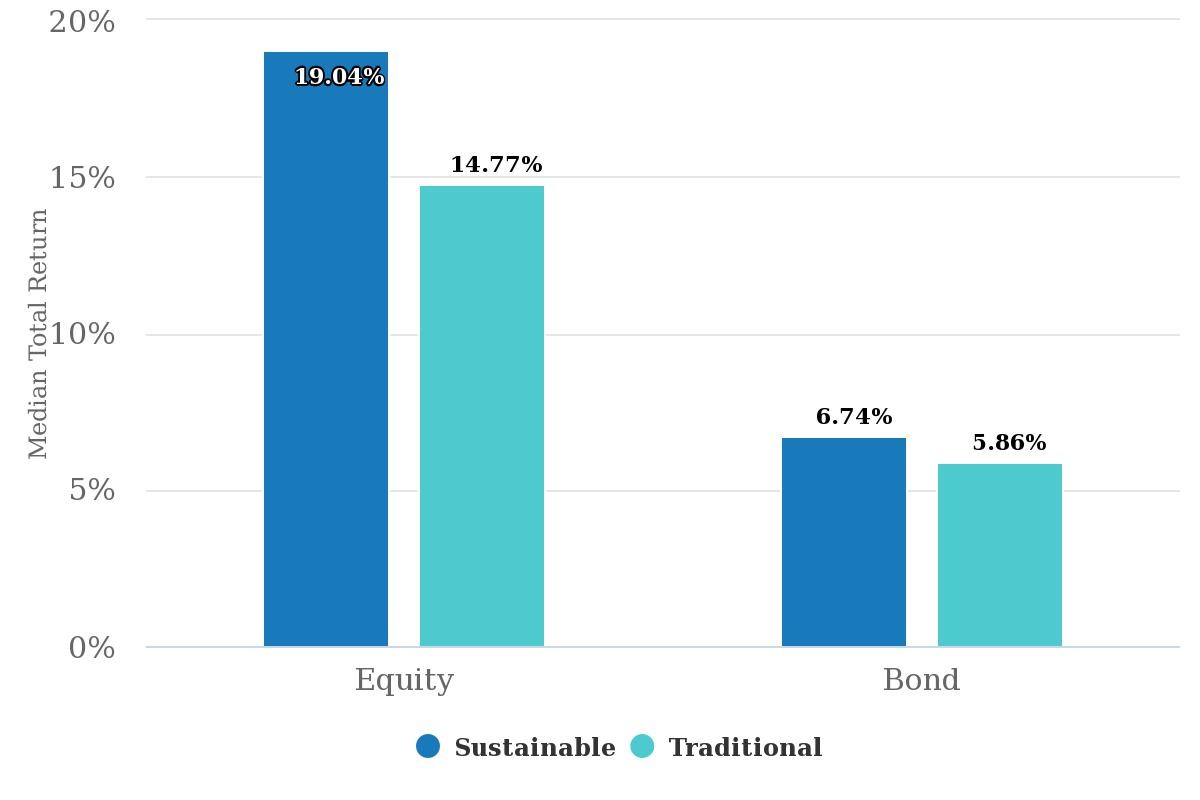 Source: Morgan Stanley Institute for Sustainable Investing
But investors do not need to rely solely on public stock and bond markets to access ESG and impact investing opportunities. Self-directed IRA investors can use their retirement dollars to pursue venture capital and private equity opportunities that focus on ESG and impact investments. In fact, our self-directed IRA clients have been doing so for years.
Venture Capital-Backed Impact Investing with an IRA
Melissa Cheong is a managing partner at Blackhorn Ventures. This Colorado-based venture capital firm invests in early-stage technology companies focused on industrial resource efficiency opportunities across the transportation, built environment, and energy sectors.
For instance, Aperia Technologies is a Blackhorn portfolio company that has developed an automated tire inflation system for trucks that extends the life of a truck's tires while also improving fuel efficiency. Blackhorn has also invested in Electriphi, which creates software that allows electric vehicle fleet managers to plan when and how to charge their vehicles, ensuring each one is fully charged at the lowest possible cost.
Blackhorn counts self-directed IRA owners among its clients.
"Investors are starting to realize that they can actually have their values reflected through their investment portfolios," Cheong said.
A long-term investment horizon is one factor that makes VC-backed impact investments a good match for IRA dollars, she said. Start-ups often need time to develop their technology and pursue an exit strategy, while IRA investors are focused on building a nest egg for the future.
"Because IRA money can't be tapped for a long period of time, some retirement investors would rather take on more risk with money they do not need to access in the short term," Cheong said. "They're often willing to be more flexible with relation to an impact investment's liquidity time horizon."
Blackhorn is now exploring ways to allow its employees to use IRAs to co-invest in its portfolio companies.
Impact Investing for the Shorter Term
While VC investments may potentially play a role in diversifying IRA holdings with long-term, higher-risk impact investments, impact investments with shorter-time frames and fixed-income-like qualities also exist.
RSF Social Finance is a nonprofit financial services firm based in San Francisco. It makes loans, grants, and investments that support food and agriculture, education and the arts, and climate and the environment. RSF has worked with our clients since 2002.
Self-directed IRA owners can invest in RSF's Social Investment Fund Note, which it compares to a bank CD. The fund offers loans to for-profit and nonprofit enterprises focused on social and environmental issues, like zero-waste recycling, sustainable agriculture, and job placement and training for early-career teachers.
The note requires a $1,000 minimum investment for a three-month term. The interest rate is informed by Community Pricing Gatherings and can change quarterly: In the first quarter of 2020, it paid a 1% annualized interest rate. To aid enterprises struggling through the COVID-19 crisis, RSF lowered the rate to 0.5% for the second quarter of 2020 to reduce borrowers' interest rates by 0.25% and fund a temporary loan payment relief program for borrowers who qualify.[1]
"We're really focused on targeting social and environmental impact; we're not targeting high financial returns," said Melinda Cheel, senior marketing director at RSF. "We've repaid investors all of their principal and interest since 1984, so clients who invest their IRA dollars with us should feel confident. But they also know their retirement dollars are being put to good use to fund solutions challenging the world today while preserving their funds for the future."
Keeping Your Eye on What Matters
Despite the upheaval caused by the pandemic, it's important not to lose sight of your long-term financial goals—or what matters to you. ESG and impact investing are no longer a niche investment approach, and it no longer means having to settle for subpar performance. The pandemic, which is causing many of us to rethink how we live our lives, could be an opportunity to explore ways to more closely align your retirement portfolio with your core beliefs and values.
© 2021 Pacific Premier Trust, a Division of Pacific Premier Bank.
Pacific Premier Trust performs the duties of an independent custodian of assets for self-directed individual and business retirement accounts and does not provide investment advice, sell investments or offer any tax or legal advice. Clients or potential clients are advised to perform their own due diligence in choosing any investment opportunity as well as selecting any professional to assist them with an investment opportunity. Alternative investments are not FDIC insured and are subject to risk, including loss of principal. Pacific Premier Trust is not affiliated with any financial professional, investment sponsor, or investment, tax or legal advisor.
INVESTMENT PRODUCTS: NOT FDIC INSURED | NO BANK GUARANTEE | MAY LOSE VALUE, INCLUDING LOSS OF PRINCIPAL
Back to News & Media