December 02, 2020
Pacific Premier Bancorp Announces the Appointment of Richard Immesberger as President of the Retirement Industry Trust Association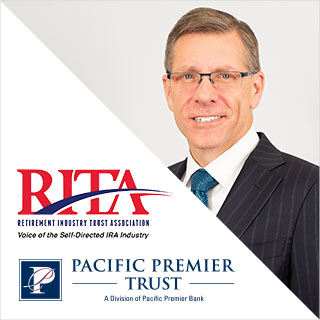 IRVINE, Calif.--(BUSINESS WIRE)-- Pacific Premier Bancorp, Inc. (Nasdaq: PPBI), the holding company of Pacific Premier Bank, announced today that Richard Immesberger, Senior Executive Vice President of Pacific Premier Bank and President of Pacific Premier Trust, a Division of Pacific Premier Bank, has been elected President of the Retirement Industry Trust Association (RITA). RITA is the leading educator and advocate for the growth and best practices of the self-directed retirement plan industry.
RITA Founder and Executive Director, Mary Mohr, said, "Rich is a timely fit for this leadership role. He has broad national bank and securities experience and a commitment to working with a variety of state and federal regulators to help consumers understand the use of alternative assets in self-directed retirement plans."
Since its founding in 1987, RITA members have encouraged the development and delivery of high quality, self-directed retirement account custody and administrative services throughout the United States. The trade association has worked with government officials and policymakers to affect change and positive results for retirement savers, investors, and the self-directed IRA industry as a whole.
Pacific Premier Bancorp, Inc. Chairman, President, and CEO Steve Gardner said, "We are proud that Rich has been elected by industry peers and know he will provide strong leadership to help RITA reach their mission of educating consumers and industry professionals on retirement industry best practices."
Back to News & Media