June 10, 2020
Using IRA Funds for Real Estate Investments to Hedge Market Volatility
By: Matthew White, CISP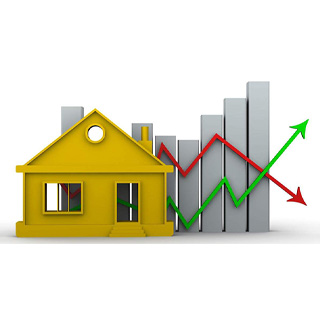 When markets swoon, investors often seek shelter—some much more literally than others.
To guard against drastic market swings, like those witnessed at the start of the coronavirus pandemic, many investors are diversifying investment portfolios with real estate investments such as single-family homes, condominiums, and apartment buildings.
Why? Ongoing bouts of market volatility mean investors are taking a closer look at alternative IRA investments. Nearly six in ten investors are considering investments beyond stocks and bonds given the volatility, according to Natixis Investment Managers' 2019 Global Survey of Individual Investors, while 65 percent are seeking investment strategies that are less tied to the broad market. Real estate fits those criteria. Of course, this could change as effects of the pandemic continue to unfold – and we'll continue to monitor it – but for now, the data is interesting.
According to data from Roofstock, an online marketplace for buying and selling rental homes, average annual returns in the single-family rental market are comparable to stock market returns and outperform bond returns. But, as the chart below shows, rental homes deliver these returns with far less volatility.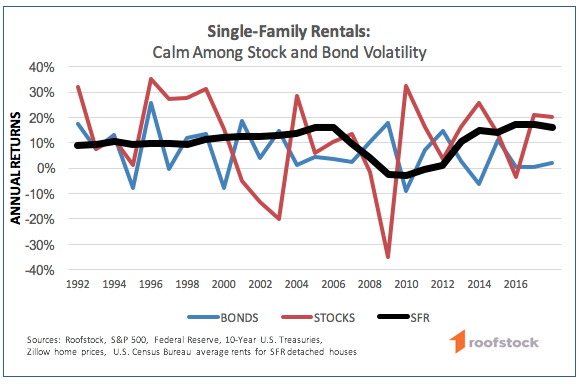 Source: Roofstock
Digging into the data shows that S&P 500 stocks posted an average annual return of more than 35 percent at its highest point in this span of 25 years, while returns plummeted equally during their worst year.
Meanwhile, single-family rental investments reported 17.5 percent returns in their best year, while dipping 2.5 percent in their worst year. The stock market had a total of six down years in this period, while the single-family rental sector posted two down years.
Bond market returns were more volatile than single-family rental returns but less risky than stock market returns on an annual basis.
Using retirement IRA funds for real estate investments
Long before the novel coronavirus outbreak plunged global economies into turmoil, our clients were using self-directed alternative IRAs to invest in real estate. Self-directed IRAs allow retirement savers to invest beyond traditional asset classes and into real estate.
Real estate is a broad asset class, encompassing everything from single-family homes to commercial real estate to land. At Pacific Premier Trust, many of our clients use IRA funds to buy single-family homes as investment properties, which they rent to tenants. This strategy allows IRA owners to grow their nest egg through a combination of rental income and capital appreciation.
As with any investment, real estate involves risk, and the widespread economic impact of the coronavirus outbreak serves to heighten this risk. Home prices plummeted during the depths of the Great Recession. But according to Roofstock, the national median single-family rental rate (the midpoint rent that tenants pay) never turned negative. Instead, it flattened before returning to growth in 2011.
With that in mind, we advise investors to consult with a trusted financial advisor before finalizing any investment decisions. In addition, real estate investing through a self-directed IRA involves a learning curve. Retirement investors should ensure they understand the rules of buying real estate with an IRA before making any purchases. Failing to follow IRS rules and regulations could lead to penalties or unexpected taxes.
If you can buy real estate, IRAs may be well-suited for owning a long-term investment. After all, retirement accounts typically hold funds that do not need to be accessed immediately -- unless you are retired. And diversifying your portfolio with an asset class that does not move in lockstep with the stock and bond markets may help you feel more confident weathering market volatility.
Have questions? You can reach us by phone at 855.453.4960 or email me at [email protected].
Pacific Premier Trust (formerly PENSCO Trust Company) performs the duties of an independent custodian of assets for self-directed individual and business retirement accounts and does not provide investment advice, sell investments or offer any tax or legal advice. Clients or potential clients are advised to perform their own due diligence in choosing any investment opportunity as well as selecting any professional to assist them with an investment opportunity. Alternative investments are not FDIC insured and are subject to risk, including loss of principal. Pacific Premier Trust is not affiliated with any financial professional, investment, investment sponsor, or investment, tax or legal advisor.
NOT FDIC-INSURED | NO BANK GUARANTEE | MAY LOSE VALUE
Back to News & Media