May 11, 2020
Alternative Asset Investing Stays Steady Under COVID Pressure
By: Christopher Orr, CISP®, SDIP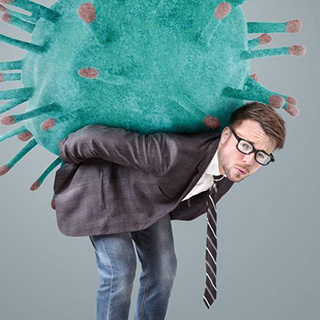 While alternative asset investors are tweaking their commitments to alternatives in 2020 as the coronavirus pandemic upends markets, a new survey finds these investors are not adjusting their long-term investment strategies significantly.
Preqin, a data and research firm focused on the alternative asset industry, surveyed alternative asset investors in April to assess the coronavirus' impact on their investment plans*. Preqin compared April's results to a survey they conducted in late 2019, allowing the firm to track how the crisis has altered investors' strategies.
Preqin's findings show investors are exercising caution in the short term, but many believe COVID-19 will not have a lasting impact on their alternative asset investing approach. Below is a closer look at the survey results.
Short-Term: Investors revise plans in reaction to coronavirus
Survey results show investors intend to pull back on their commitments to alternative IRA assets for 2020. At the end of 2019, 83% of surveyed investors planned to make new commitments to alternatives this year. However, the April survey finds 59% of investors will "slightly" or "significantly" decrease the number of commitments they plan to make in 2020.
Investors also plan to cut the amount of capital they'll commit to alternative investments, with 60% expecting to decrease the size of their planned commitments "slightly" or "significantly."
Sector Views: What's in and out of favor?
The economic fallout from the coronavirus has hit some industries far worse than others, and the chart below shows which sectors alternative asset investors may avoid in 2020. While 47% of respondents said they aren't avoiding any particular region or industry, 34% said they would avoid retail-focused real estate, and 28% said they would avoid the conventionally focused energy and natural resources sectors.
These findings are not much of a surprise. Consumer spending has declined rapidly amid the pandemic, with CNBC reporting that retail sales fell a record 8.7% in March. Meanwhile, oil prices have plummeted as global oil demand remains at historic lows.
Sectors Investors Plan to Avoid in 2020 Due to COVID-19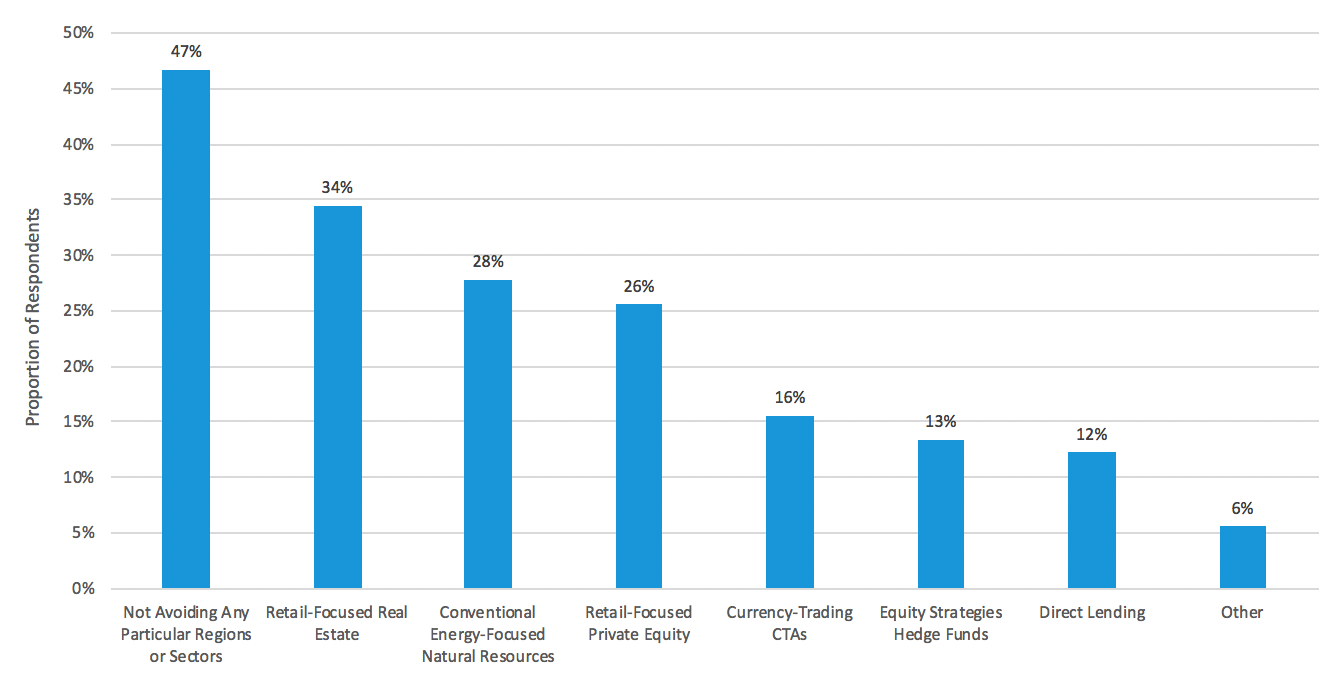 Source: Preqin Investor Survey, April 2020
While investors are shying away from struggling sectors, the chart below captures which sectors are garnering investor attention.
Sectors Investors Plan to Target in 2020 Due to COVID-19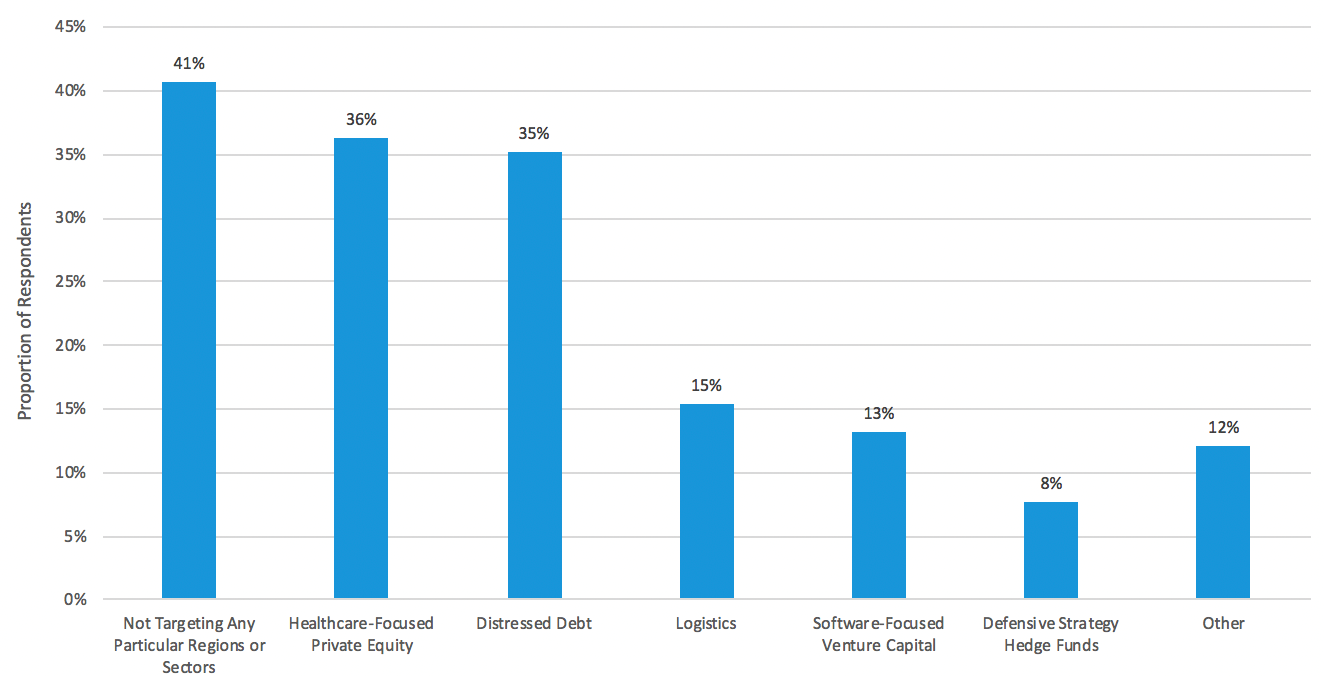 Source: Preqin Investor Survey, April 2020
Given the pandemic, investors are targeting healthcare-focused private equity more closely. The sector may be well-positioned to capitalize on evolving industry trends and treatments as healthcare systems across the globe respond to the virus.
Distressed debt is also popular. As companies struggle to stay afloat amid forced closures and social distancing, the amount of distressed debt is soaring. At Pacific Premier Trust, where we custody alternative assets for our clients' self-directed IRAs, we're also seeing heightened investor interest in distressed debt, which has the potential to provide yield, act as an income source, and diversify a portfolio.
Long-Term: Investors remain committed to alternatives
Many believe that COVID-19 will not have a lasting impact on their alternative asset strategy. Of the investors surveyed, 63% do not anticipate any long-term effect on their future alternative investment strategy, and 29% expect to divert more capital toward alternatives in the long run.
Investor Views on the Long-Term Impact of COVID-19 on Future Alternative Investments Strategy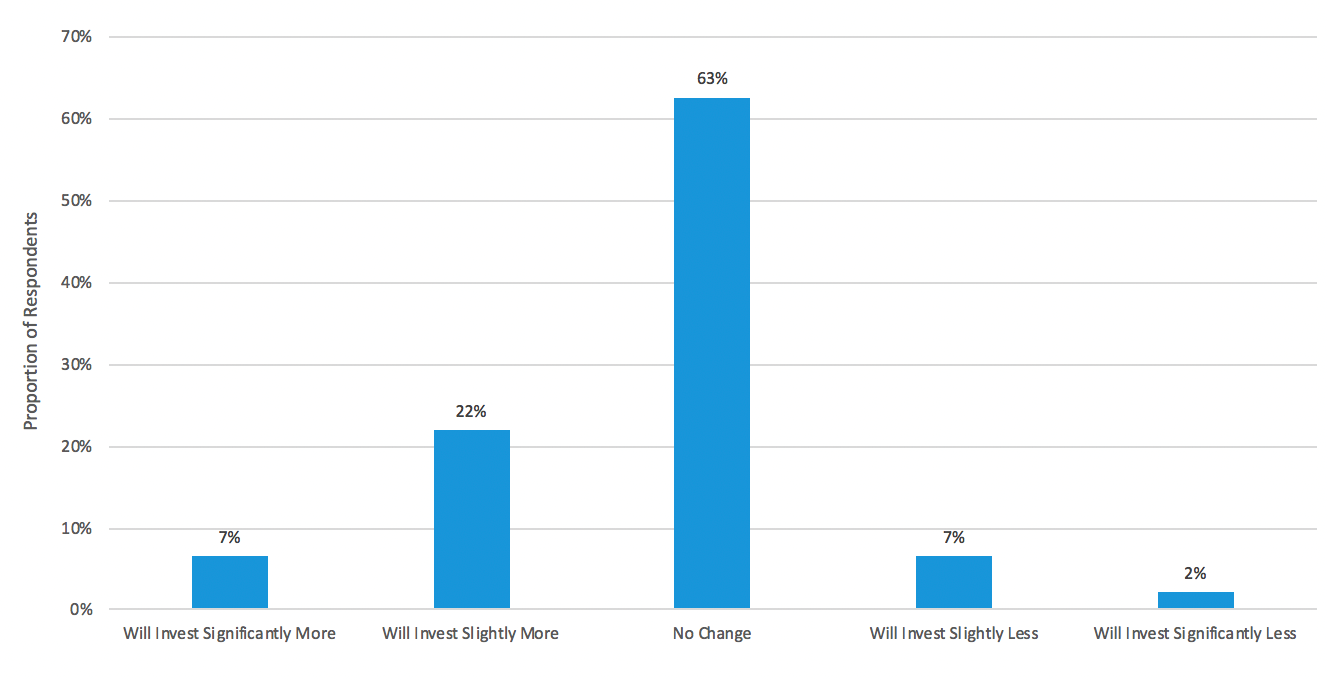 Source: Preqin Investor Survey, April 2020
Meanwhile, 53% of surveyed investors expect the coronavirus will have a "moderately negative" impact on the returns of their alternative asset portfolios over the long term. In comparison, 23% said that impact would be "moderately positive."
At Pacific Premier Trust, we make it possible™ for investors to take an active role in building their nest egg by using self-directed IRAs to invest in alternatives. Many retirement investors realize that an allocation to alternatives has the potential to deliver excess returns while reducing portfolio risk*. And by owning alternative investments in a self-directed IRA, investors gain the potential benefit of tax advantages.
If you are interested in alternative assets, a good first step is discussing pros and cons with your advisor or CPA. If you decide they are a good fit, please call us at 866.818.4472. If you are a current Pacific Premier Trust client and have questions about your IRA, you can reach us at 800.962.4238.
**Preqin surveyed 110 investors in April 2020 who operate across all alternative assets. Twenty percent of participating investors were family offices, the largest share. Asset managers made up 17% of respondents, while banks comprised 14%. Forty-three percent of investors were located in Europe, while 31% were based in North America and 22% in Asia.
This Blog does not provide investment, tax, or legal advice nor does it evaluate, recommend or endorse any advisory firm or investment vehicle. Investments are not FDIC insured and are subject to risk, including the loss of principal.
Pacific Premier Trust (formerly PENSCO Trust Company) performs the duties of an independent custodian of assets for self-directed individual and business retirement accounts and does not provide investment advice, sell investments or offer any tax or legal advice. Clients or potential clients are advised to perform their own due diligence in choosing any investment opportunity as well as selecting any professional to assist them with an investment opportunity. Alternative investments are not FDIC insured and are subject to risk, including loss of principal. Pacific Premier Trust is not affiliated with any financial professional, investment, investment sponsor, or investment, tax or legal advisor.
NOT FDIC-INSURED | NO BANK GUARANTEE | MAY LOSE VALUE
Back to News & Media