September 28, 2020
Housing Market Forecast: Weighing the Impact of Coronavirus
By: Matthew White, CISP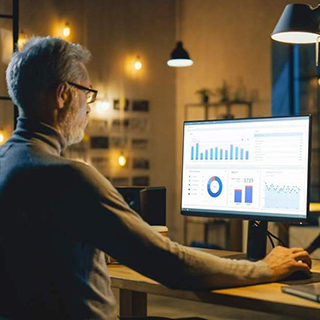 The U.S. housing market entered 2020 with a rosy forecast. Then the coronavirus pandemic struck and the U.S. economy effectively ground to a halt. The unemployment rate skyrocketed from a 50-year low of 3.5% in February to an all-time high of 14.7% in April. Home sales dropped dramatically, and open houses were banned in many regions at the start of the all-important spring selling season. The rosy housing market forecast immediately darkened.
Here is a look at the state of the housing market and the potential impact of the coronavirus pandemic on mortgage rates, home prices, and rent growth for single-family rental homes.
After lockdown, the housing market bounces back
While the housing market data hit a trough in mid-April with purchase activity down 30%, according to Freddie Mac, it enjoyed a swift rebound in May and June as lockdown orders started to lift and took less than 10 weeks to bounce back.
Two strong trends are supporting the rebound: low mortgage rates and low housing inventory. Currently, mortgage rates stand near-record low levels, making home purchases affordable to a broader swath of Americans. Freddie Mac, Fannie Mae, and the Mortgage Bankers Association have predicted mortgage rates will remain low until the second quarter of 2021, according to Forbes.
Total housing inventory[1] at the end of August totaled 1.49 million units, down 0.7% from July and down 18.6% from one year ago, according to the National Association of Realtors. Unsold inventory sits at a 3-month supply at the current sales pace, down from 3.1 months in July and down from the 4-month figure recorded in August a year ago.
Scarce housing inventory has been problematic for the past few years, according to Lawrence Yun, NAR's chief economist, an issue he says has worsened due to the surge in lumber prices and the dearth of lumber due to California wildfires.
"Housing demand is robust but supply is not, and this imbalance will inevitably harm affordability," Yun said.
An ongoing housing market recovery far from certain
The US economy shrank the most ever on record in the second quarter, and the country is experiencing its worst bout of unemployment since the Great Depression. Data shows personal income fell and spending slowed in June, well before coronavirus cases began to surge again in July, according to Barron's.
These trends raise questions about the health of the US consumer as the pandemic's damage to the labor market and small businesses takes a toll. Sky-high unemployment figures mean potential buyers may delay purchase decisions until the outlook—for the coronavirus and the economy—improves.
Renters of single-family homes at risk
Heading into the pandemic, rent price growth for single-family homes had stabilized at an annual average of 3%, according to CoreLogic. But single-family home rent price growth slowed abruptly to 1.7% in May as the nation felt the full impact of the economic crisis triggered by COVID-19.
CoreLogic expects regions with higher rates of job loss to experience more severe declines in rental demand. Detroit experienced a nearly 20% drop in employment, and its local rent price growth remained stagnant in May. But Phoenix's employment declines were minimal, allowing for healthy rent growth, CoreLogic said.
"With unemployment rates predicted to remain high through the end of the year, we can expect to see further easing in rent growth as the economy struggles," CoreLogic Principal Economist Molly Boesel said in a statement.
On top of this, eviction moratoriums in several large cities and states are expiring, leaving up to 40 million U.S. renters at risk of evictions, according to Statista.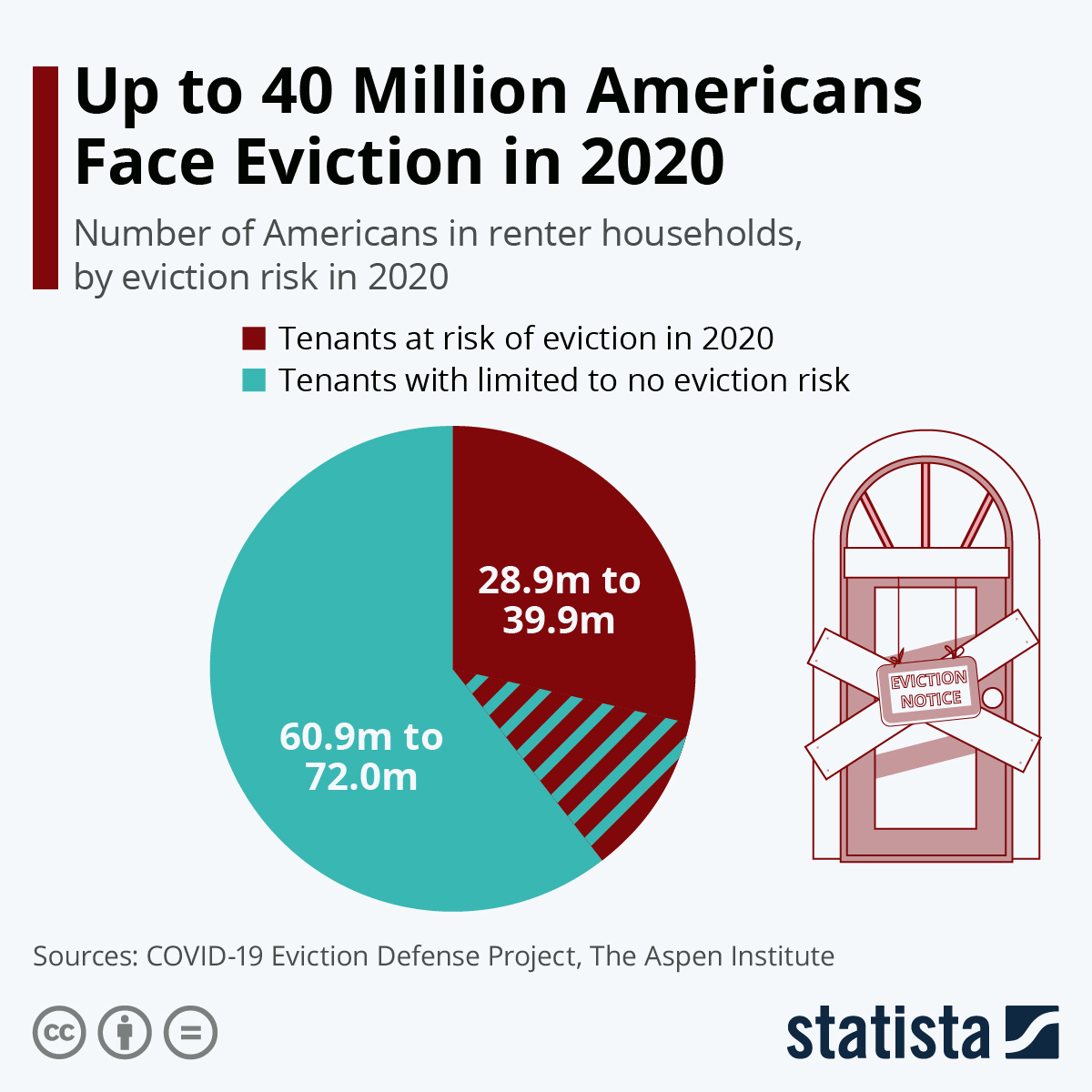 The Statista "Chart of the Day", made available under the Creative Commons License CC BY-ND 3.0 https://www.statista.com/chart/22385/eviction-crisis-us/
A mixed housing market forecast
While low mortgage rates and inventory are propping up the housing market, high unemployment figures and the coronavirus' ongoing spread do not work in its favor. No matter what form a housing market recovery takes, it is not expected to progress in a straight line.
In late April, real estate firm Haus said it expected a "Flying W-shaped" recovery, with an initial sharp drop due to the pandemic followed by a summer rebound, a dip in the fall, and a stable road to recovery by spring 2021. But in July, Haus revised its housing market forecast which remained consistent in its August outlook -- calling for a more prolonged period of negative growth with a second leg of the Flying W expected to arrive late fall or early winter.
"While indeed we are expecting to see improvements in most indicators throughout the summer, the fall and spring forecasts reflect a more stubborn housing market recovery than we predicted over the past few months," it stated.
For its part, Freddie Mac acknowledges the future is much more uncertain than usual, and there are "still great unknowns about the evolution of the recovery and future policy response." Its housing market outlook is "cautiously optimistic."
And amid dismal unemployment rates and a struggling economy, CoreLogic expects additional declines in rent growth for single-family homes.
To learn more about self-directed IRAs or holding real estate in your retirement account, you can reach us by phone at 855.453.4960. You can also email me at [email protected].
Pacific Premier Trust (formerly PENSCO Trust Company) performs the duties of an independent custodian of assets for self-directed individual and business retirement accounts and does not provide investment advice, sell investments or offer any tax or legal advice. Clients or potential clients are advised to perform their own due diligence in choosing any investment opportunity as well as selecting any professional to assist them with an investment opportunity. Alternative investments are not FDIC insured and are subject to risk, including loss of principal. Pacific Premier Trust is not affiliated with any financial professional, investment, investment sponsor, or investment, tax or legal advisor.
NOT FDIC-INSURED | NO BANK GUARANTEE | MAY LOSE VALUE
Back to News & Media